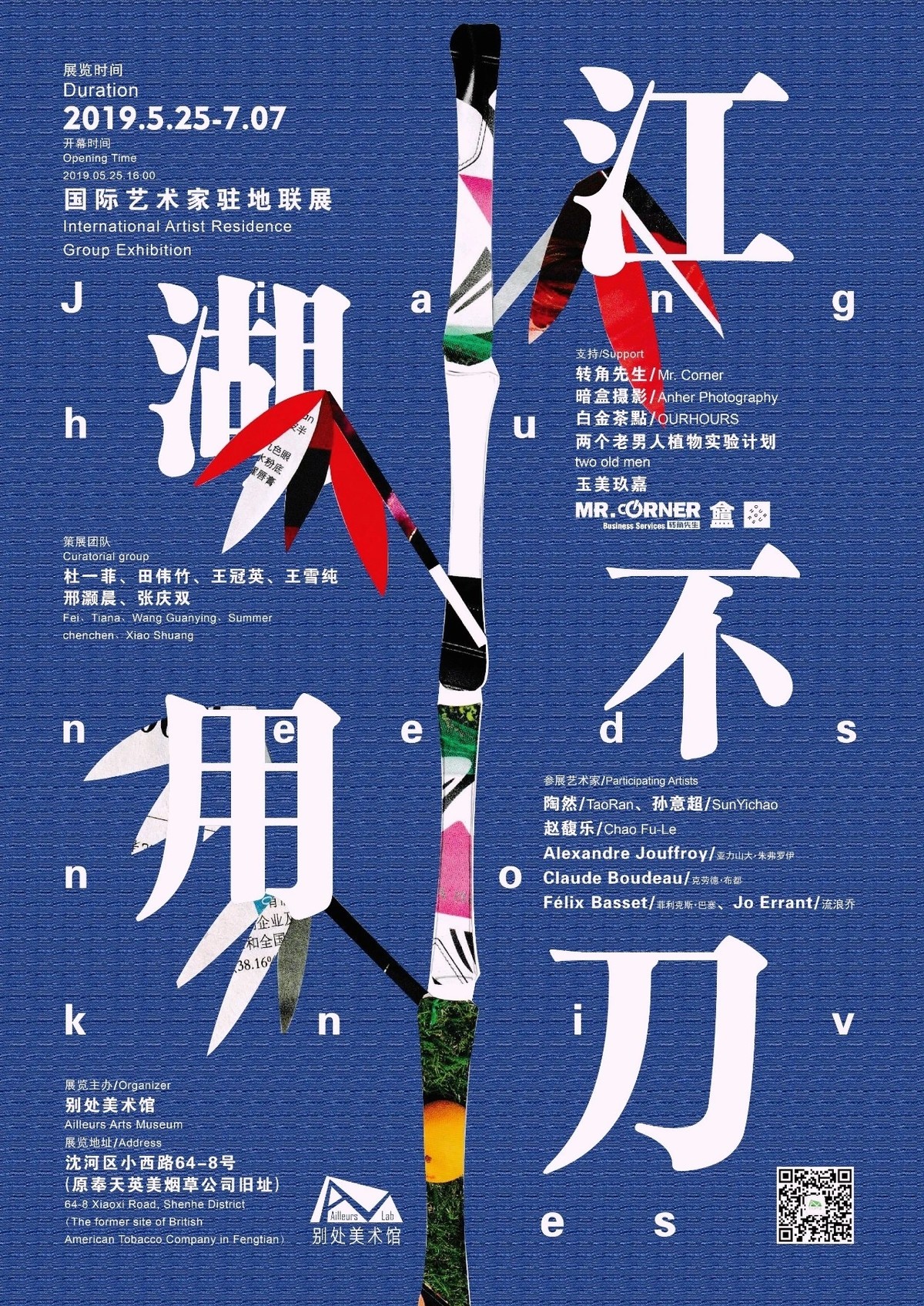 就像初出师门的少年侠客开使行走江湖,"艺术驻地"往往是当代艺术范畴内青年艺术家从学校毕业后的必经之路,画笔/相机/各种材料/最重要的是充满创意的头脑和热情纯真的心灵都是青年艺术家们的生存工具,在各国各城市驻地创作和生活的经历中也慢慢尝到了这艺术江湖的百味,不用刀便可与各路英雄好汉一教高下。七位分别来自中国东北,台湾和法国贝桑松的年轻艺术家,他们不同文化不同观念,在跨越大洋,交汇融合的驻地艺术创作中,也扮演着不同角色:"我旅居多国" "这是我出过最远的门" "我是皇帝,也是流浪汉" "我爱白日幻想,那来自深沉的冥思" "终于勇于尝试了一直不敢挑战的事" "我用身体忠实发声"。人生如逆旅,我亦是行人,英雄无需配刀,出门便是江湖。在这生机盎然的初夏,别处美术馆邀你同他们一起来狂欢,共同为这奇妙的旅程举杯!
Just like the young chivalrous men who have just graduated from school, "Art Residence" is often the only way for young artists in the field of contemporary art to pursue. The most important thing is that the creative mind is maintained as well as the warm and innocent spirit, which are the survival tools of young artists. They also fully feel the charm of the diversified artistic atmosphere in the creation and life experience of cities in various countries. They can compete with artisticelites without real "weapons". Seven young artists from Northeast China, Taiwan and Besançon of France, who have different cultures and concepts, also play different roles in the residential art creation of crossing the ocean and merging with each other. Their words resonate their experience in this collision:"I live in many countries." "This is the farthest door I have ever traveled." "I am an emperor and a vagrant." "I love daytime fantasy that comes from deep meditation." "Finally, I dared to try something that I had never dared to challenge." "I spoke faithfully with my body." . Life is like a retrograde journey. I am also a pedestrian. A hero does not need a physical weapon. In this vigorous early summer, you are invited to joint artworld in the Carnival of Life and toast to this wonderful journey.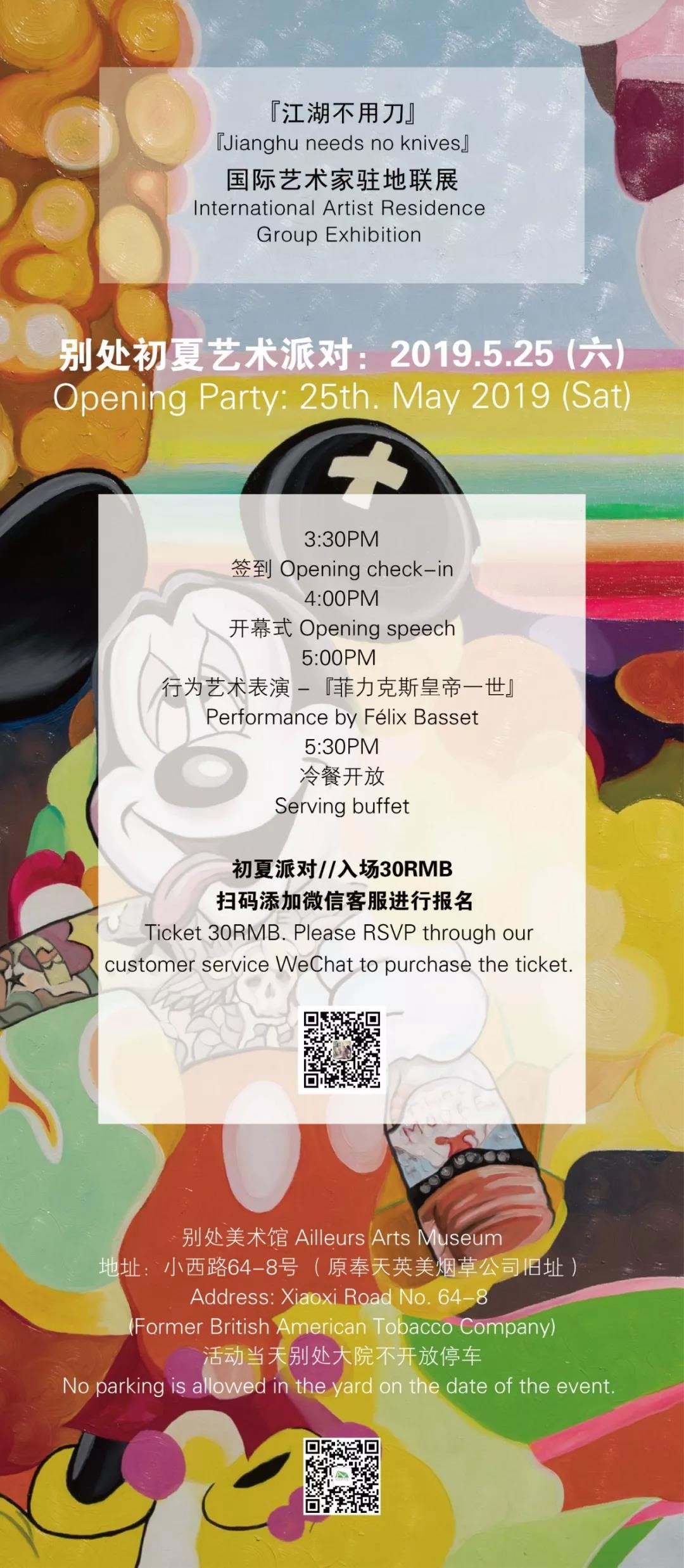 驻地艺术计划&别处驻地计划
Artist-in-residence & Ailleurs Residency
在全球化背景下,多元与变化不仅是时代发展的主旋律,也是当代艺术在发展中不断探索的主题。而这种多元流动的特质也使当代艺术家、作品与观众的关系发生了改变,除了观看与被观看和理想状态下的教育功能,交流亦成为关系连通有效性的参照标准之一。因此更关注过程而非结果的艺术家驻地创作计划(Artist-in-residence,简称AIR)也成为当代创作的一种方式,从更宏观的角度来看,其扮演的是"连接本地艺术界与国际艺术界的重要媒介"。艺术家驻地创作计划一般是自发创立或依附于院校、博物馆、艺术机构等,为艺术家们提供较长时间(通常为一个月至三个月)的驻留机会,在此期间,艺术家在一个新鲜的环境中与本地的自然环境、社会环境发生关联和交流,获得驻地机构的支持与服务,累积人脉资源,迸发不同的艺术灵感,并以展览、工作坊等方式呈现这个阶段的创作作品。
别处美术馆与法国贝桑松高等美术学院战略合作,自2016年以来持续开展中法艺术家驻地交流项目,目前我们向来自世界各地的艺术家、策展人、作家和设计师开放申请为期1-3个月的艺术驻地。旨在支持青年艺术家,从以沈阳为代表的工业遗址和历史遗产中获得创作灵感,欢迎各国家,任何有艺术或设计背景有志青年申请此项目。
In the context of globalization, pluralism and change are not only the main theme of the development of the times, but also the theme of continuous exploration in the development of contemporary art. Besides the educational function of watching and being watched under the ideal state, communication has become one of the criteria for the validity of relationship connectivity. Therefore, Artist-in-Residence (AIR) has become a way of contemporary creation. From a broader point of view, AIR plays an important role in connecting the local artworld with the international art world. Artists' residential creation plans are usually spontaneously established or attached to colleges, museums, art institutions, etc. They provide artists with a longer period of time (usually from one month to three months) of residence opportunities. During this period, artists in a fresh environment are associated and communicated with the local natural environment and social environment, obtain support and services from the resident institutions, and connect with local things. An excellent opportunity to explore resources, burst out different artistic inspiration, work on exhibitions, participate in workshops and find other ways to present different platforms of creative works.
Ailleurs Residency is partnered with "Institut Supérieur Des Beaux-Arts de Besançon" and has been hosting a Chinese-French artist exchange program since 2016. We are currently open for positions for artists, curators, writers, and designers from around the world to apply for 1-3 months length of stay. We aim to support artists in their emerging/mid-career state to help benefit from the industrial site and historical heritage. Applicants from all nationalities, any art or design background are welcome to apply.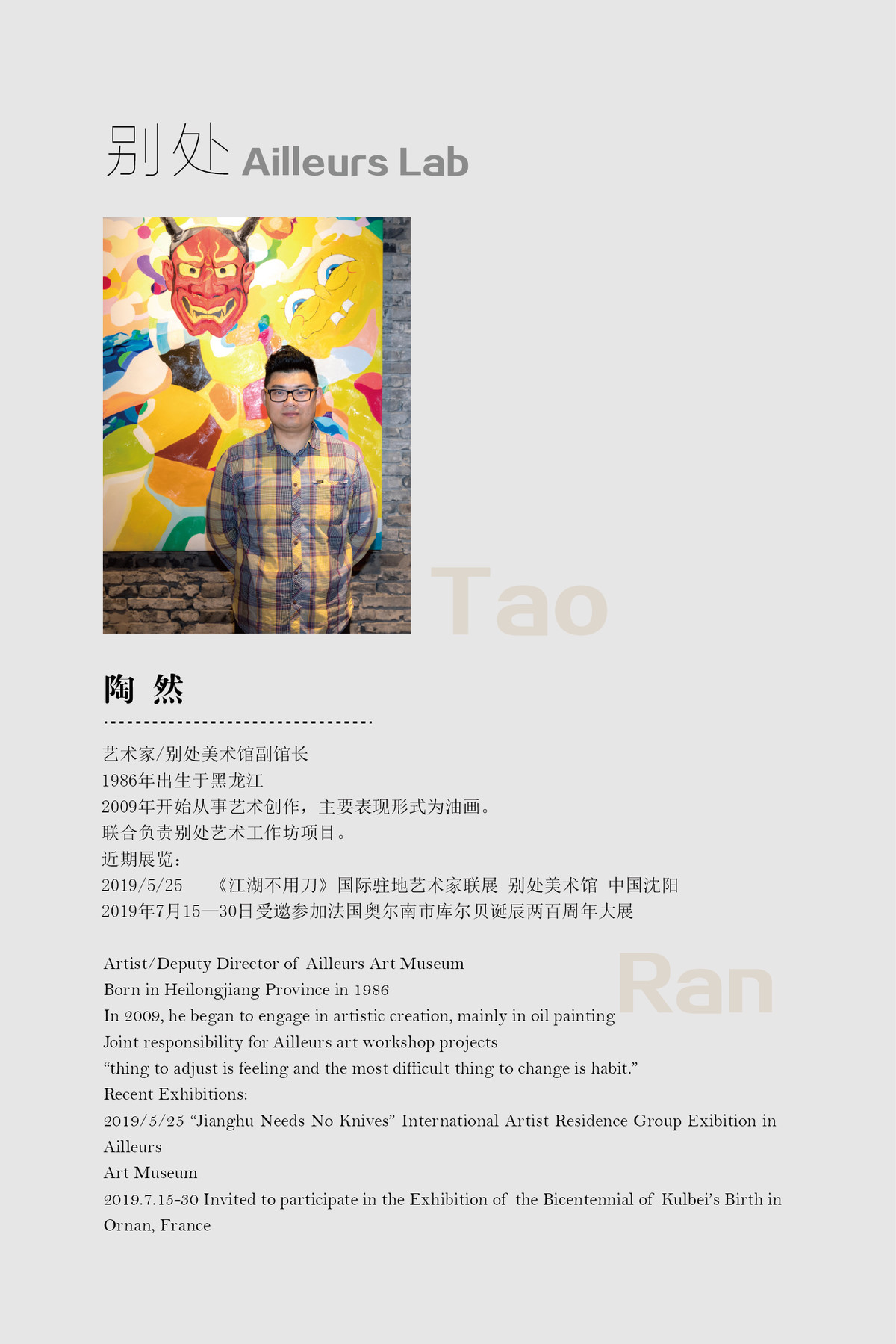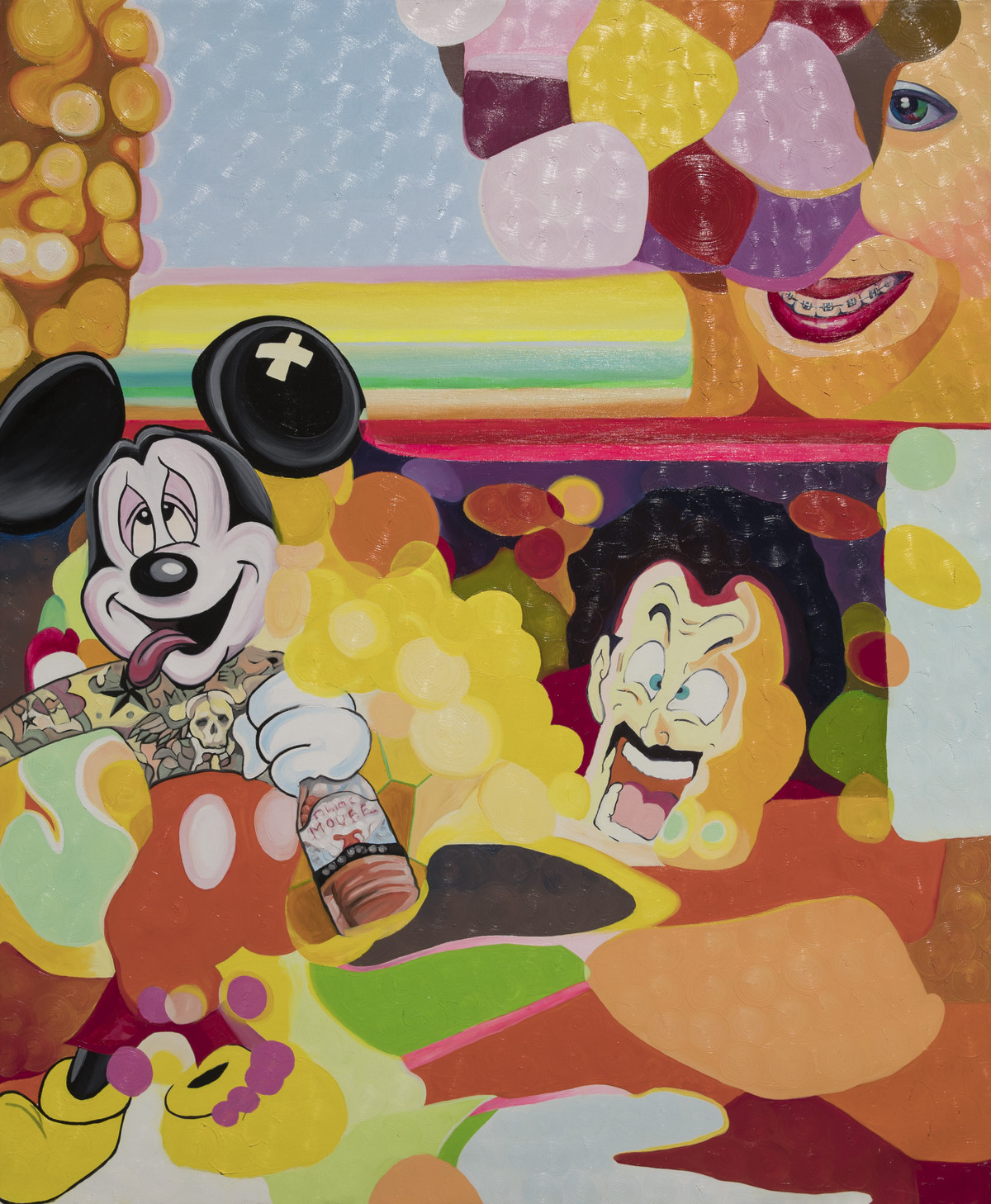 《白日梦》-4
2018
媒材:布面油画
尺寸:140*170cm
《Daydream》-4
2018
Medium:Oil on Canvas
Size:140*170cm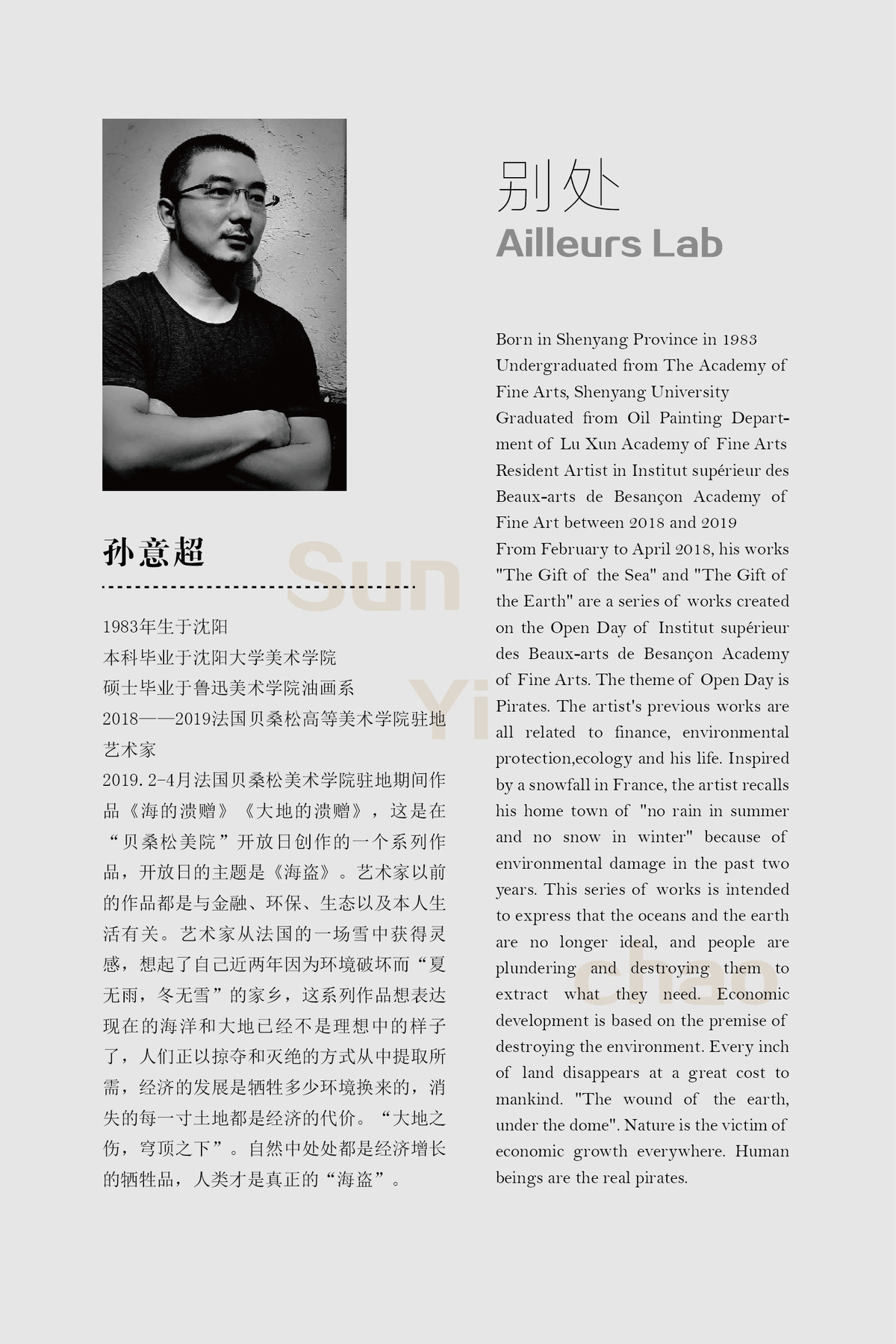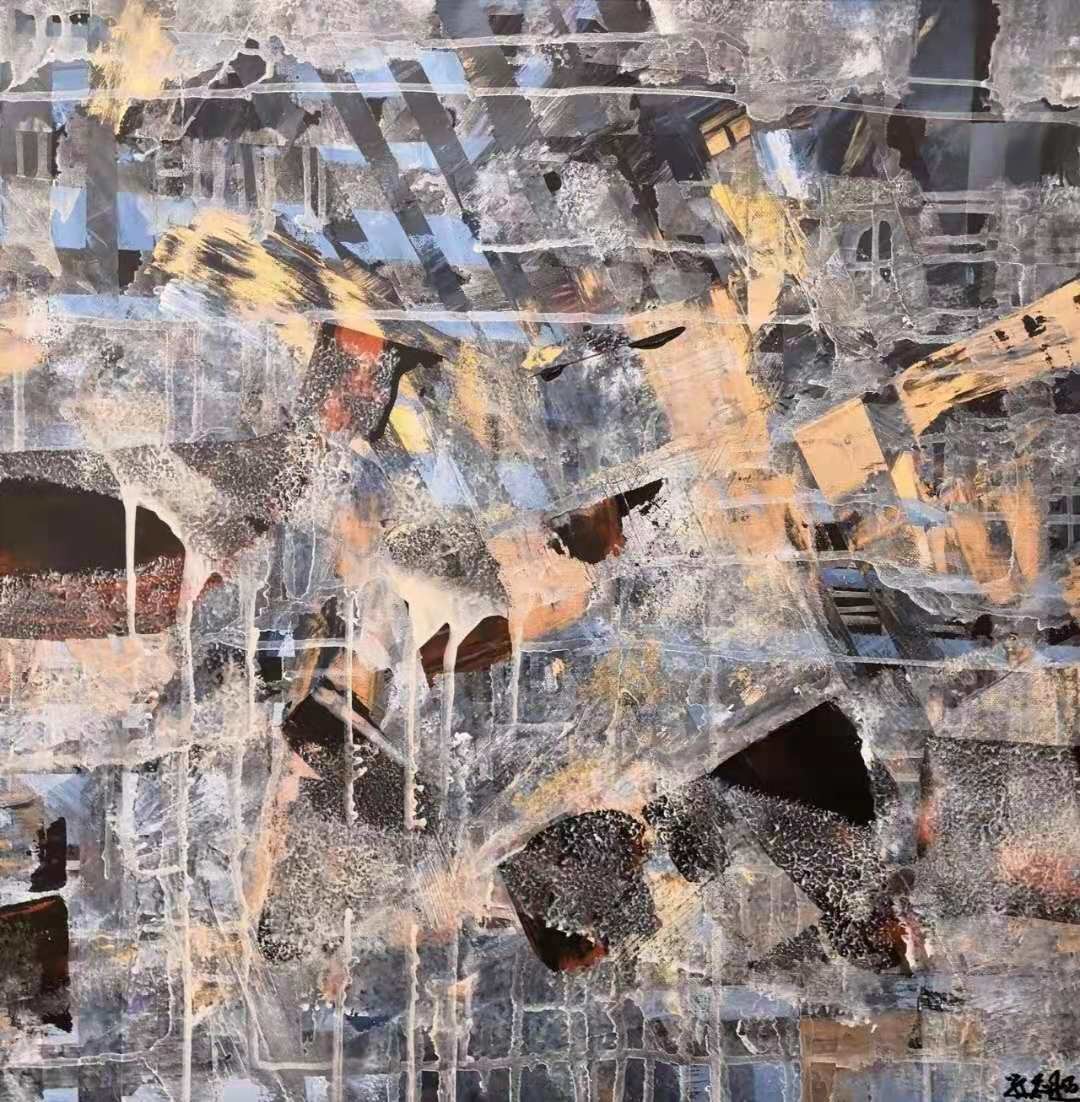 《海的溃赠》
2019
媒材:布面丙烯
尺寸:60*60cm
《Counterattack of the Ocean》
2019
Medium:Acrylic on canvas
Size:60*60cm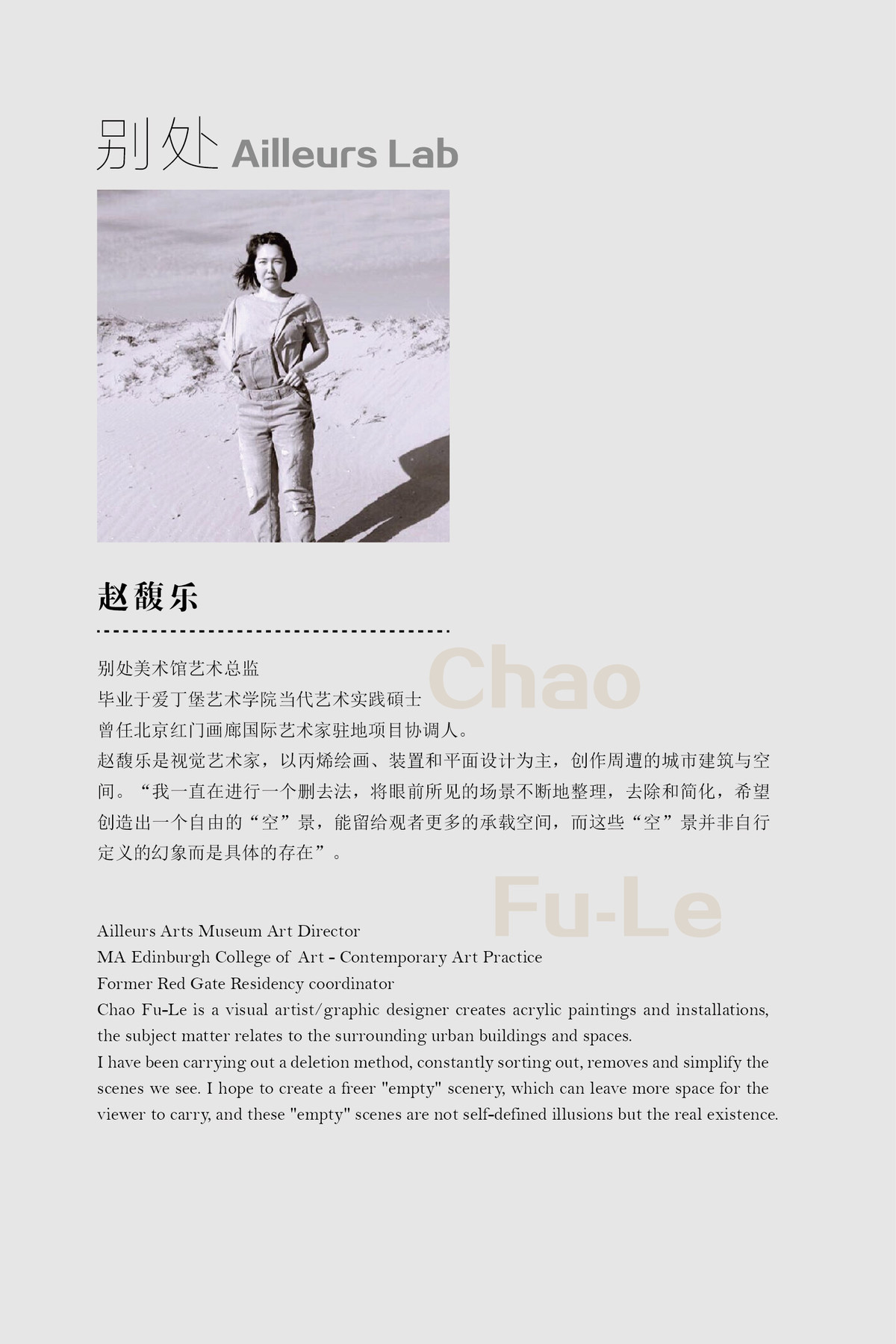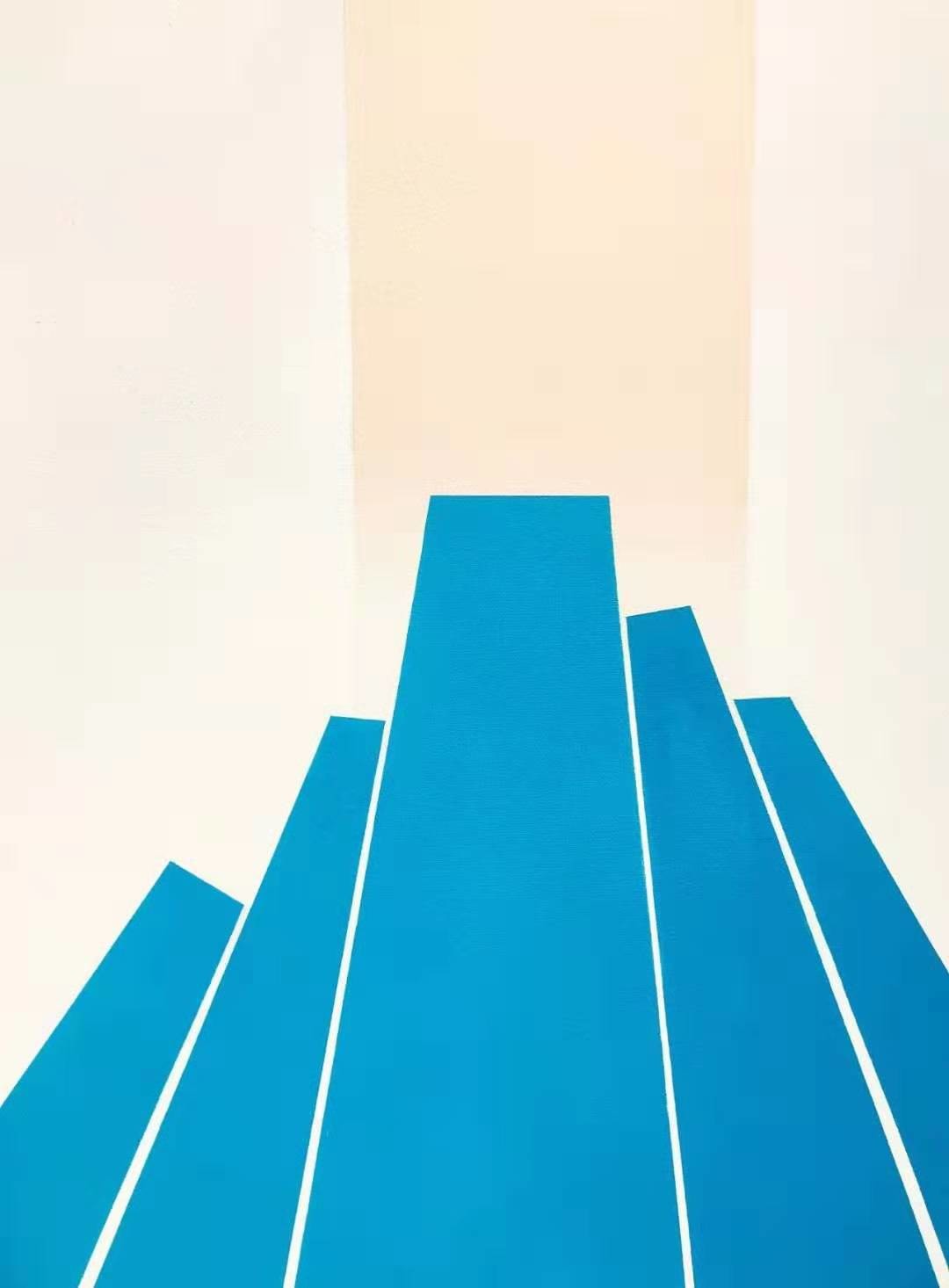 《操场》局部
2019
媒材:布面丙烯
尺寸:50*150cm
《Playground》Partial of the painting
2019
Medium:Acrylic on canvas
Size:50*150cm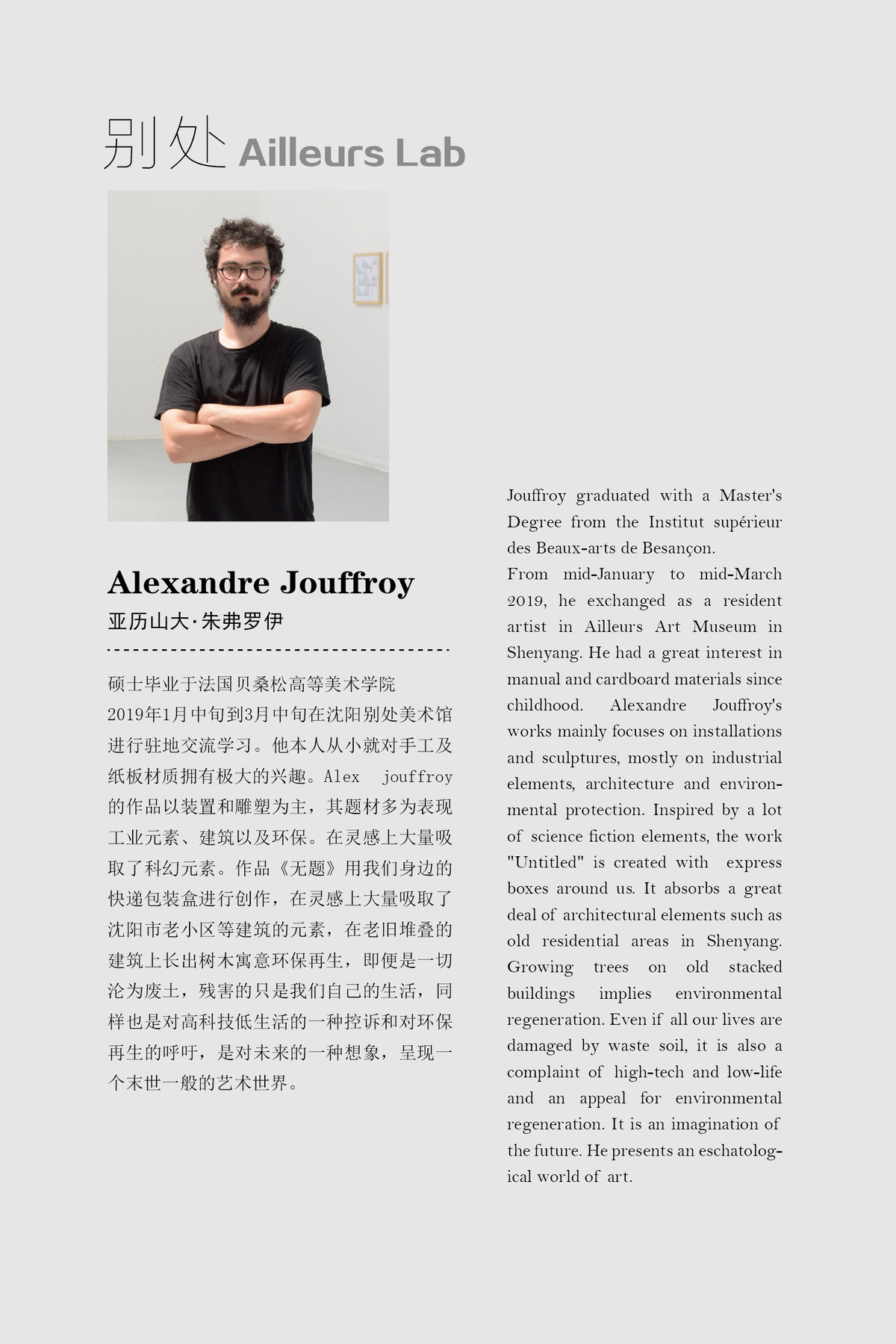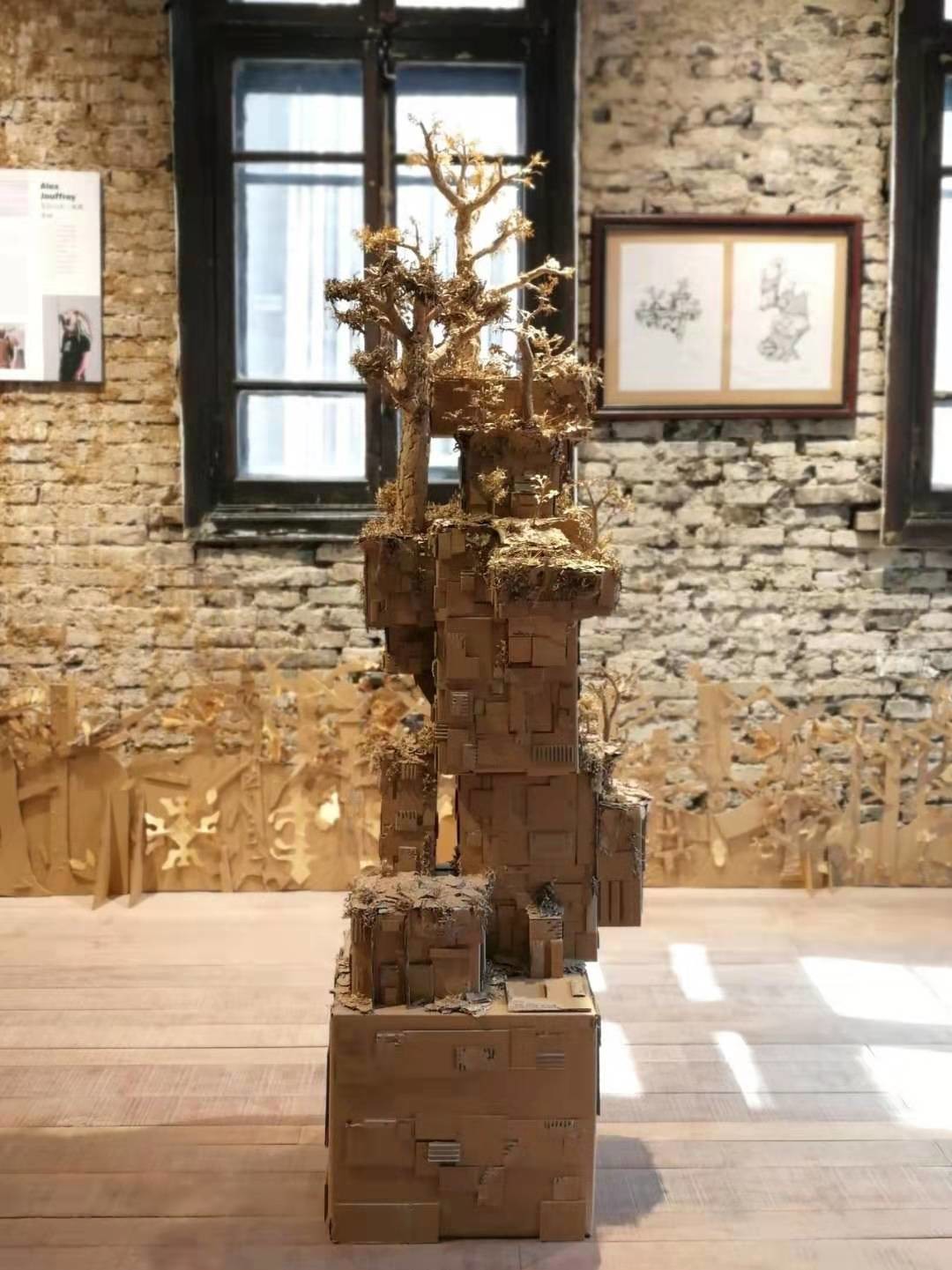 《无题》
2019
媒材:装置
尺寸:44*34*180cm
《Untitled》
2019
Medium:Installation
Size:44*34*180cm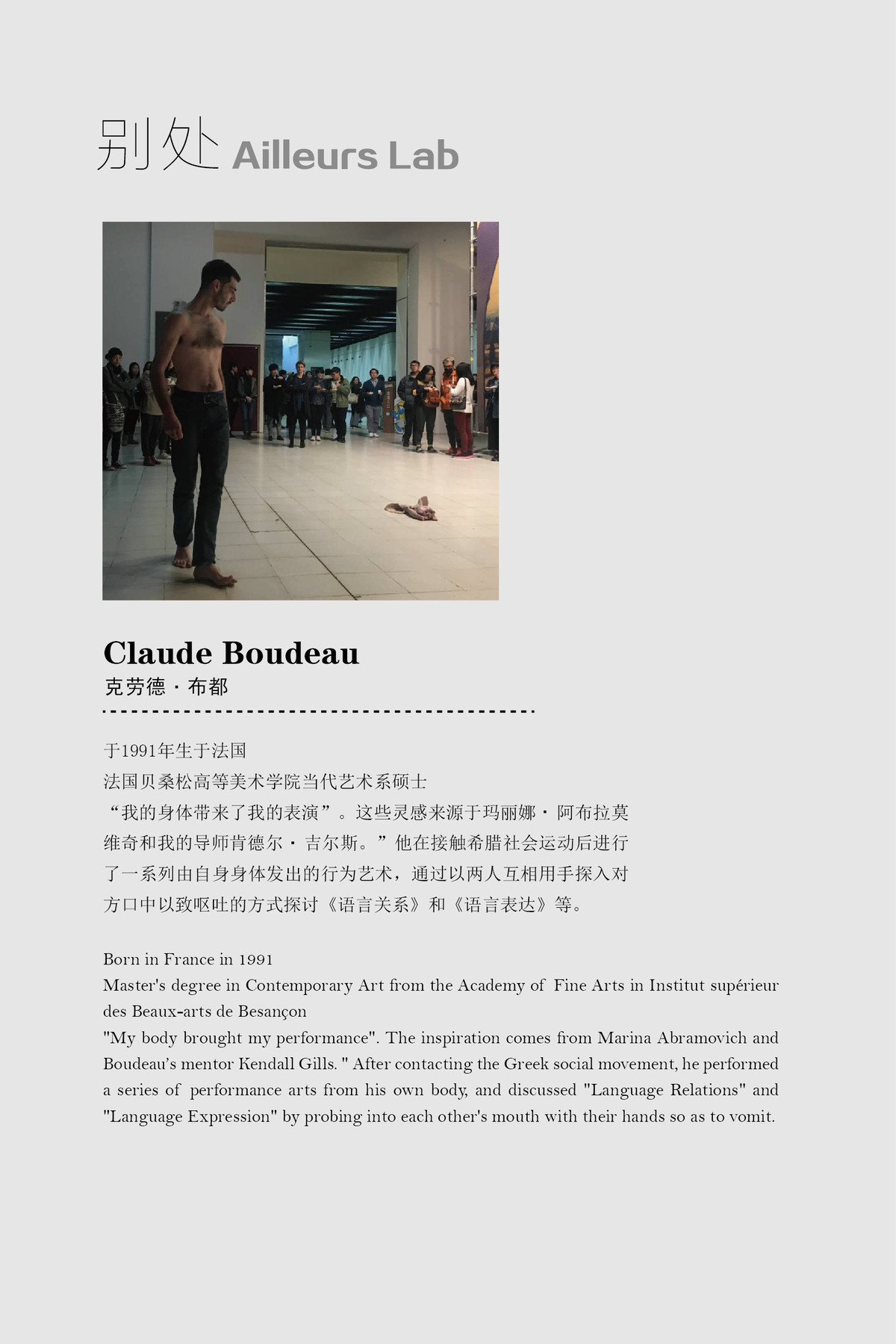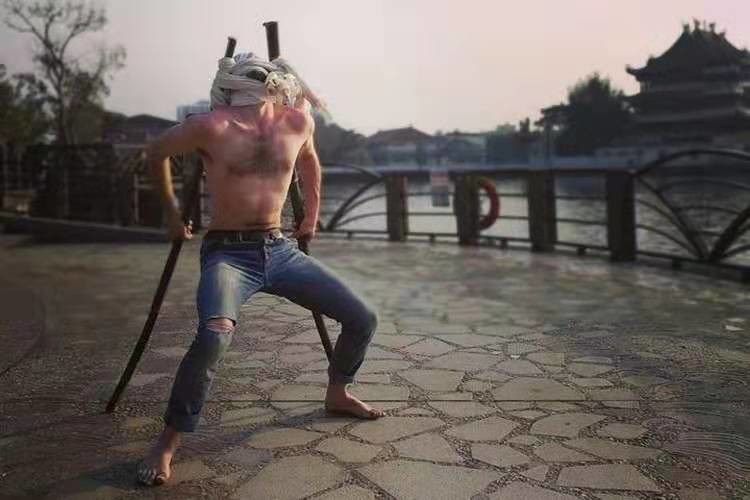 《痛苦系列》-4
2018
媒材:影像
时长:17min25
《Pain Series》-4
2018
Medium:Video
Duration:17min25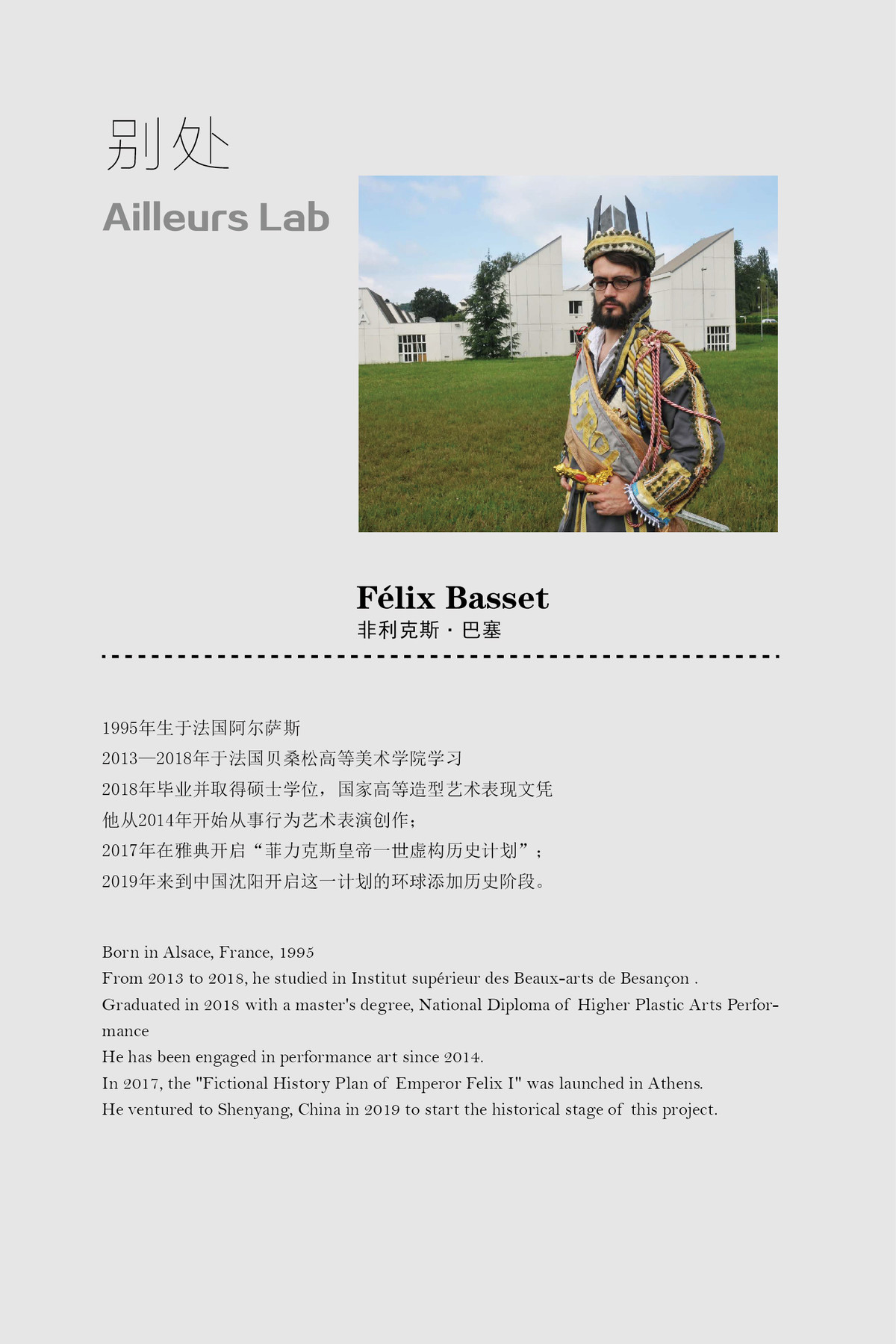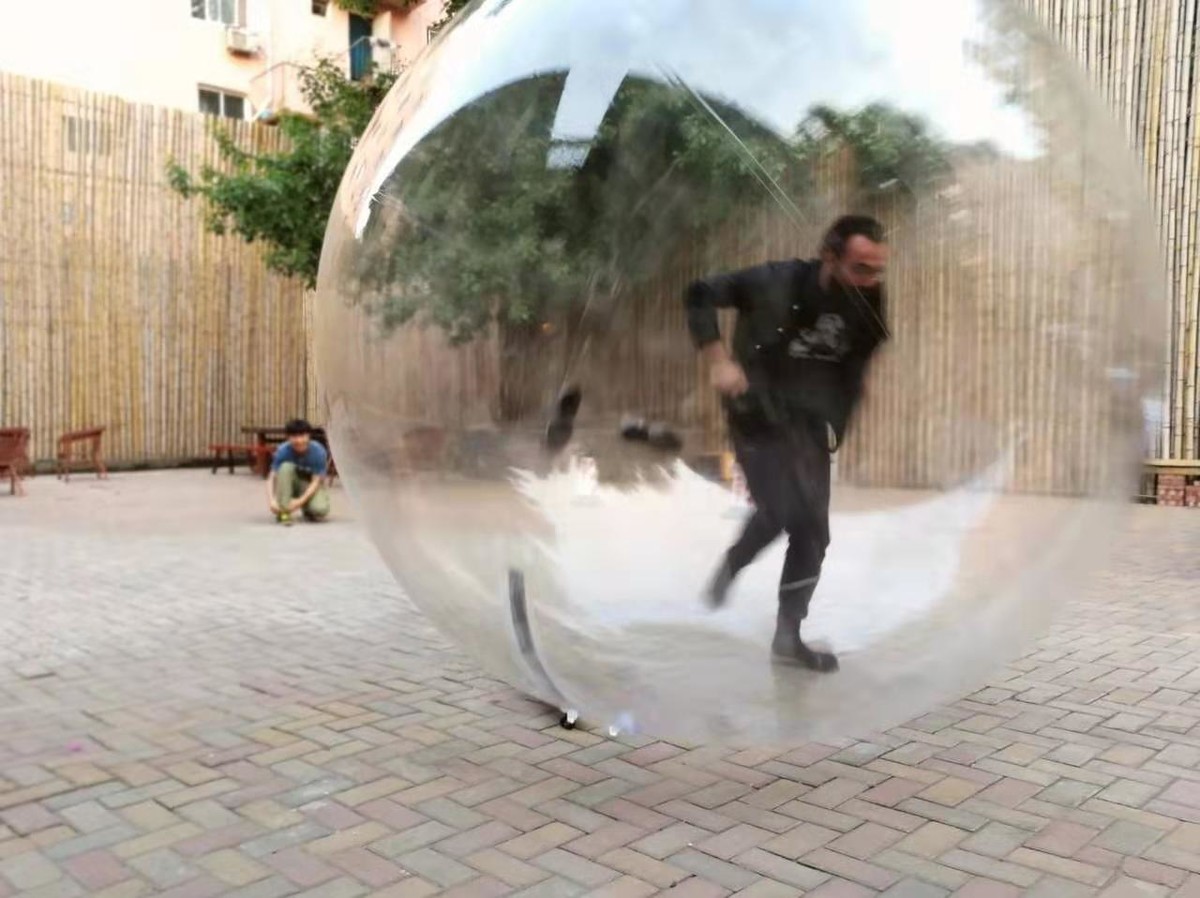 行为艺术表演
2019
Performance Art show
2019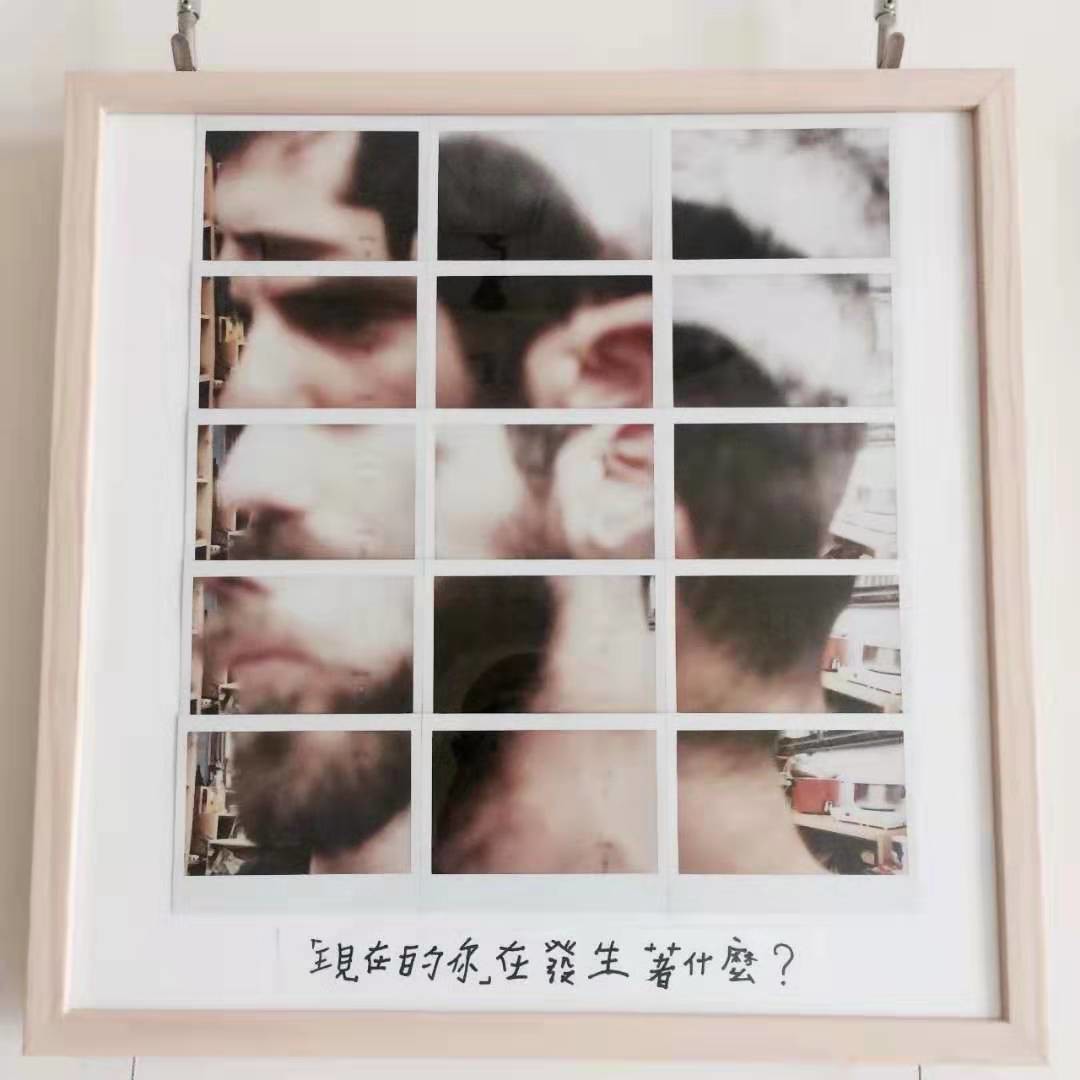 策展团队:别处练习生
Curatorial Team: Ailleurs Sweeping Monks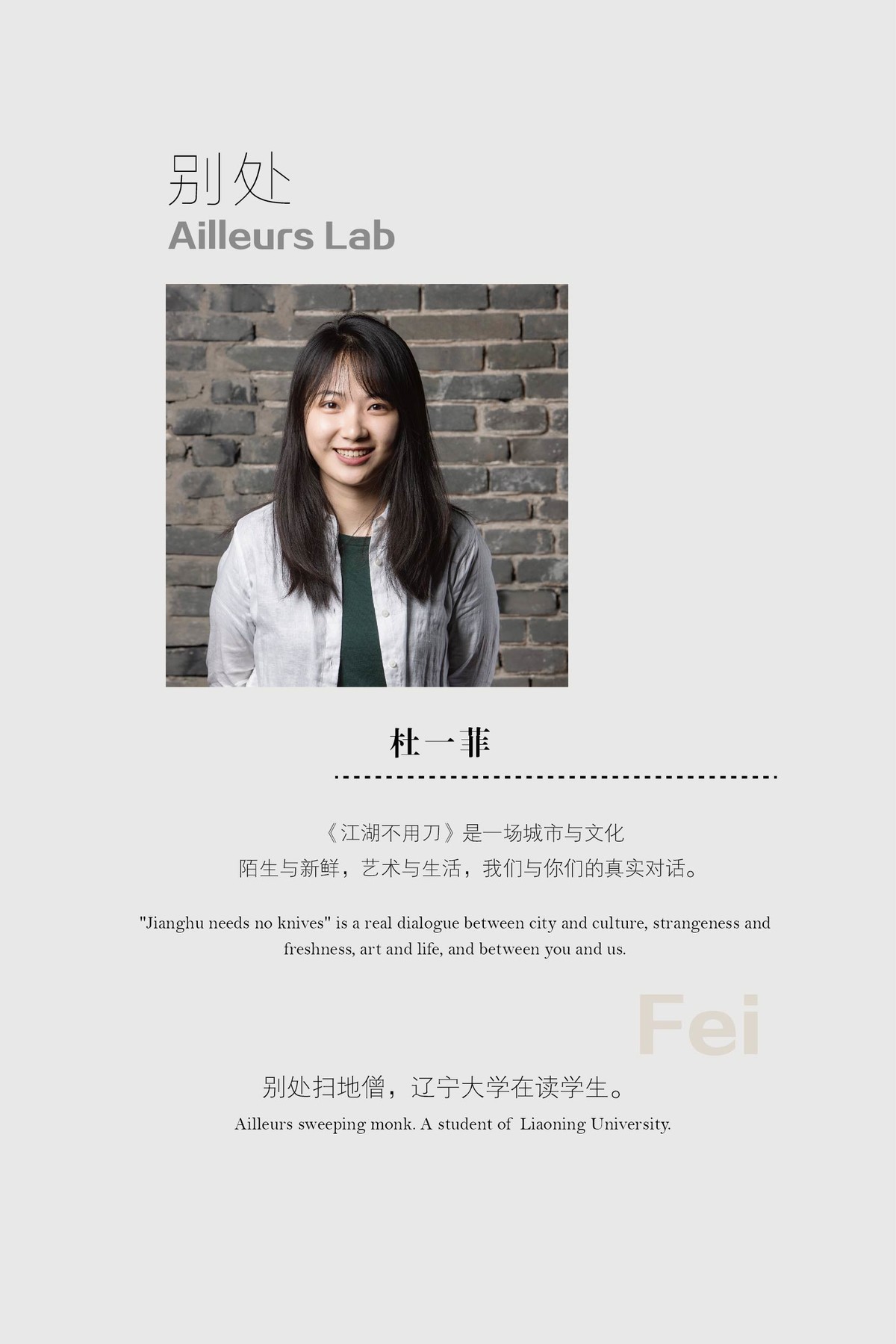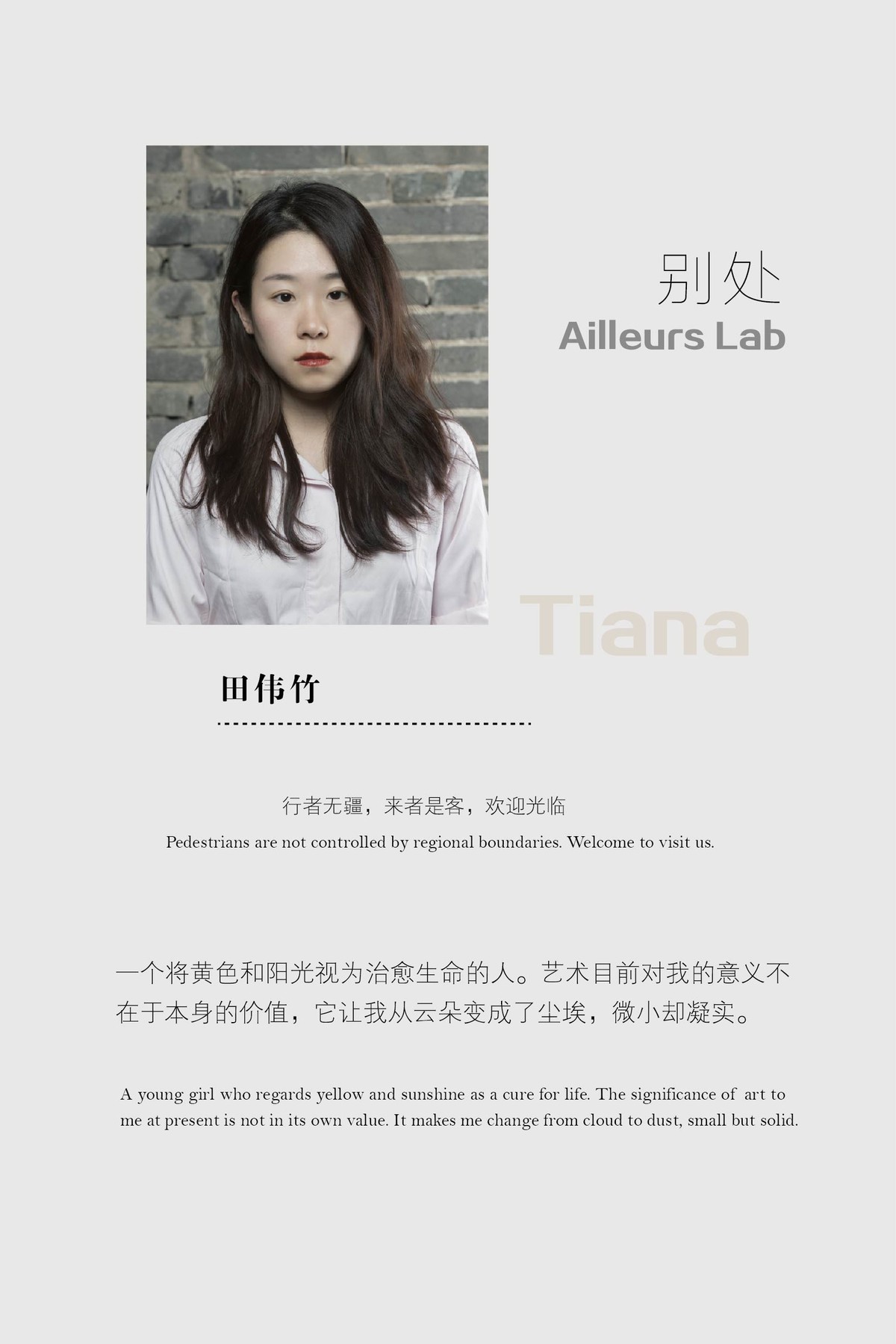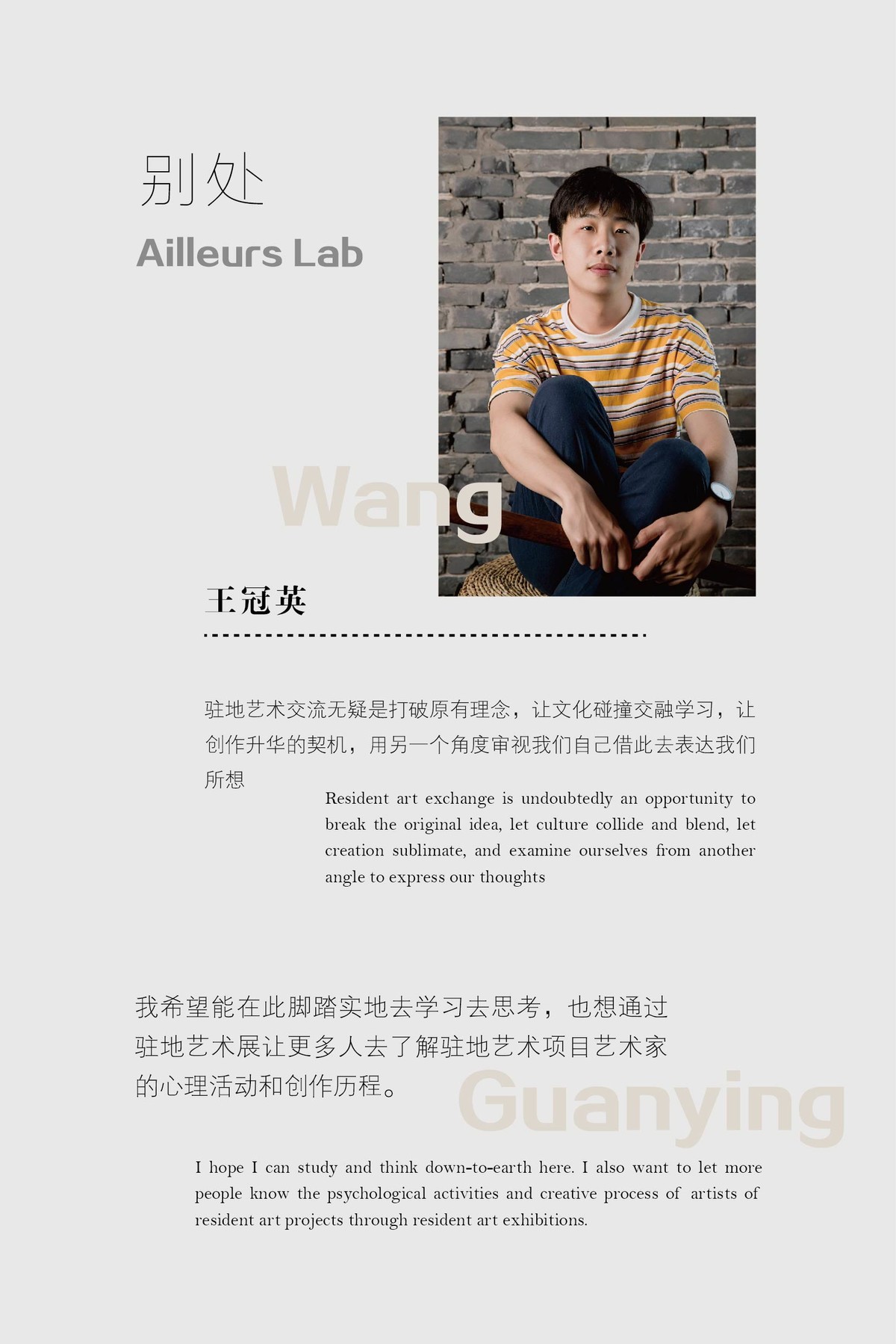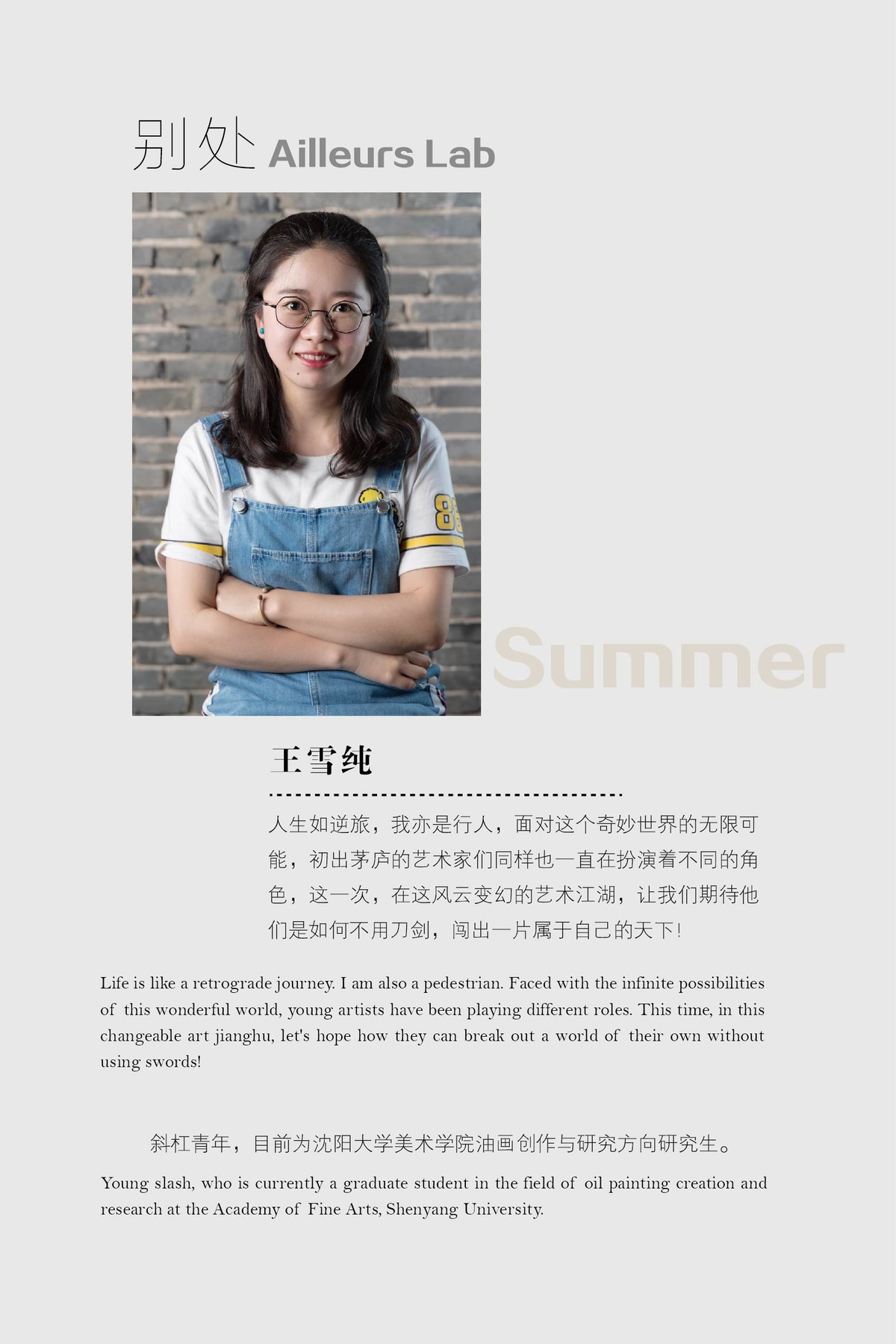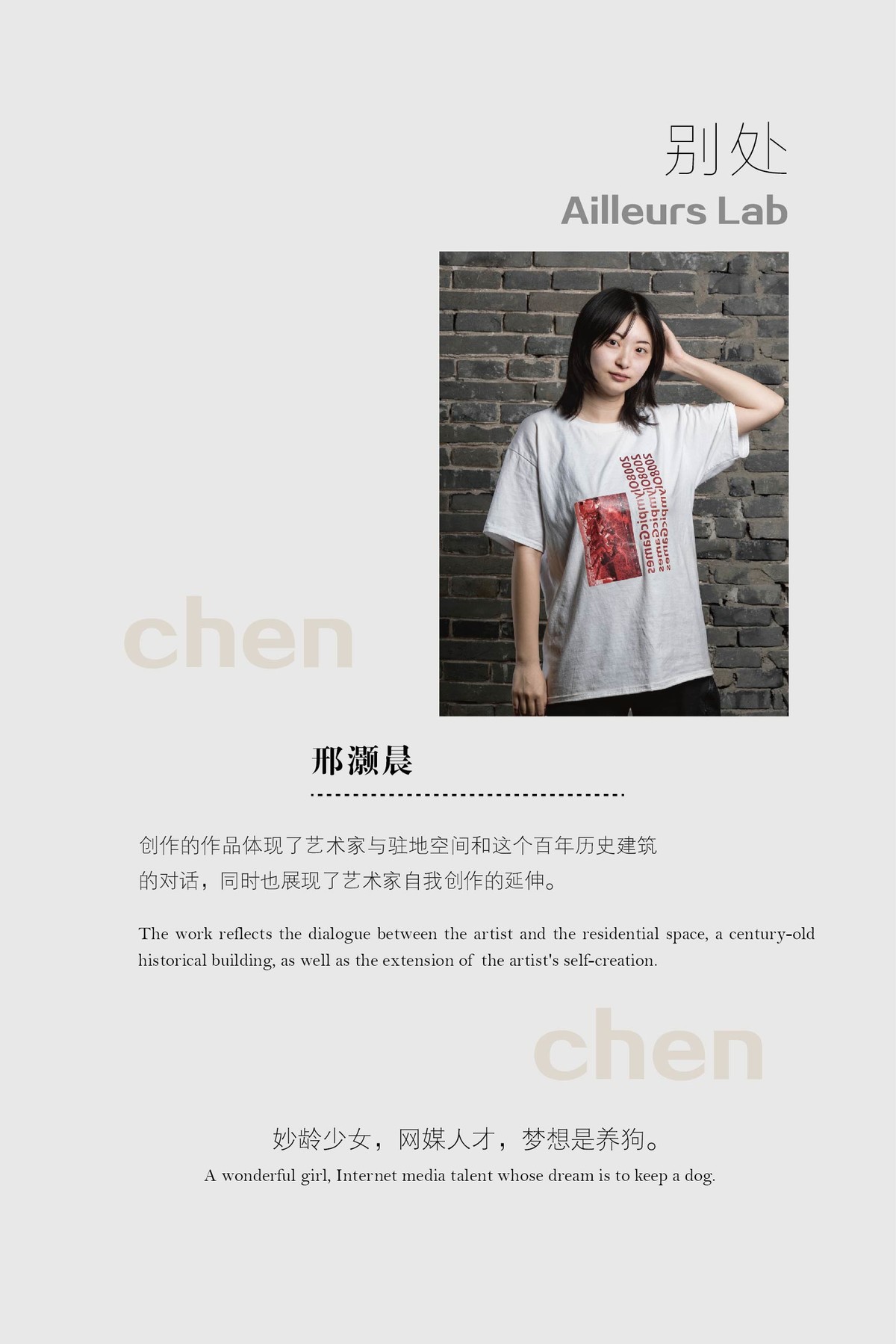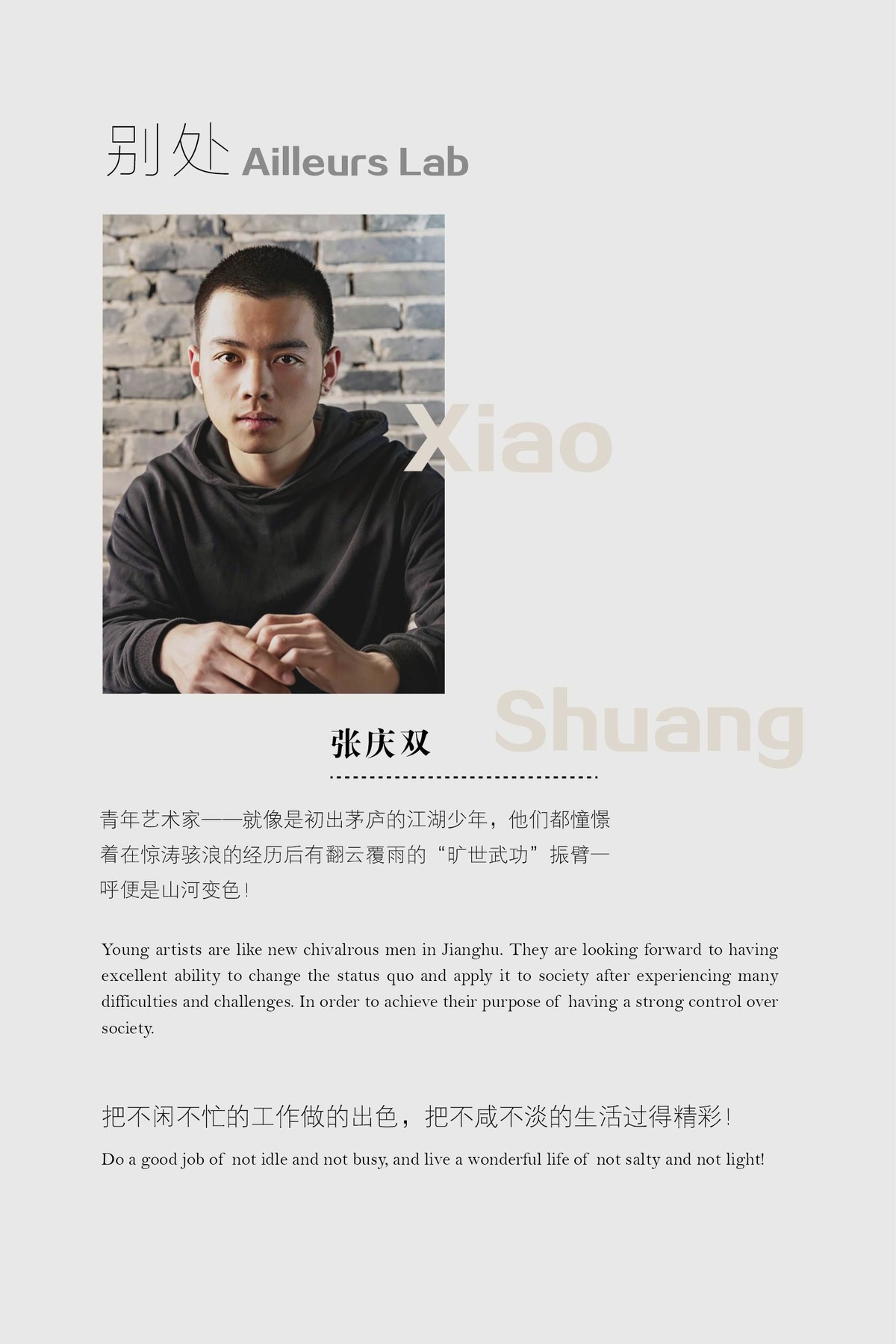 『江湖不用刀』 国际艺术家驻地联展
International Artist Residence Group Exhibition
展期:
2019.5.25 - 2019.7.7
Exhibition period:
25.5.2019 - 7.7.2019
导展时间:
每周二至周日上午11时、下午3时(周一休馆)
英语导展:
每周五、六下午4点
Tour Guide period:
11 AM and 3 PM, Tuesday - Sunday (Monday closed)
English:
4 PM, Friday, Saturday
展览门票:30元
(12岁以下儿童及军人免票,65岁以上及持学生证学生六折)
Ticket: Adult 30 RMB
(Free for Children under 12, China military.
40% off discount for elderly over 65 and students with student ID)
本场开幕派对支持
Sponsoring support for the opening
转角先生/Mr.Corner
暗盒摄影/Anher Photography
白金茶点/OURHOURS
两个老男人植物实验计划/Two Old Men
玉美玖嘉
欢迎咨询别处研究室客服号或亲往别处美术馆
Inquiry for Ailleurs Arts Museum please join the customer service Wechat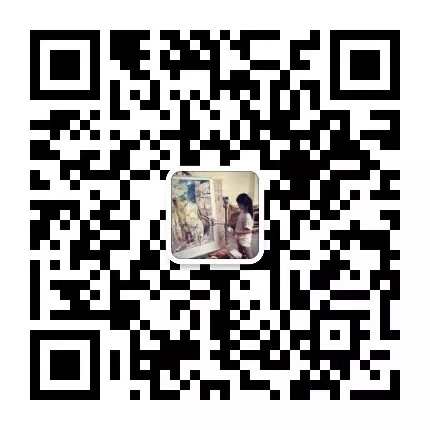 地址:沈阳市沈河区小西路64-8号
(原奉天英美烟草公司旧址)
咨询电话:18502493423
64-8 Xiaoxi Road, Shenhe District, Shenyang City, Liaoning Province
(former Fengtian British American Tobacco Company)
Tel:18502493423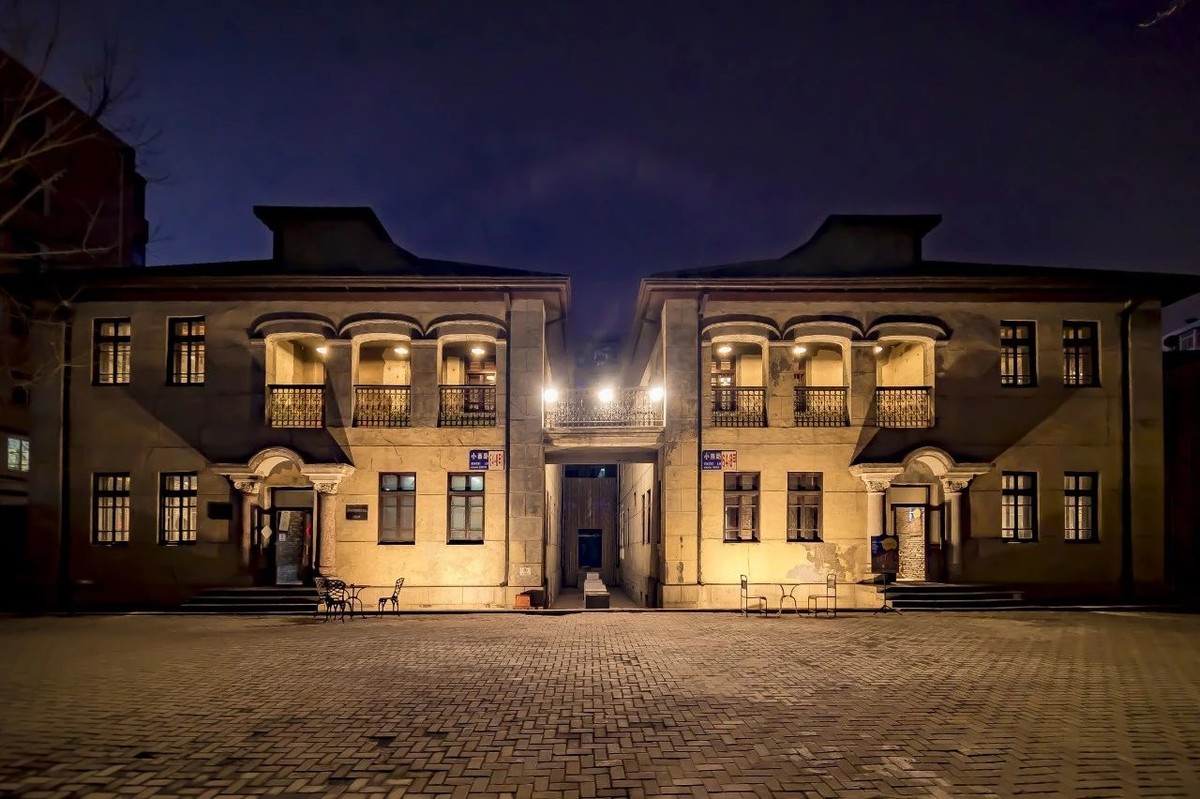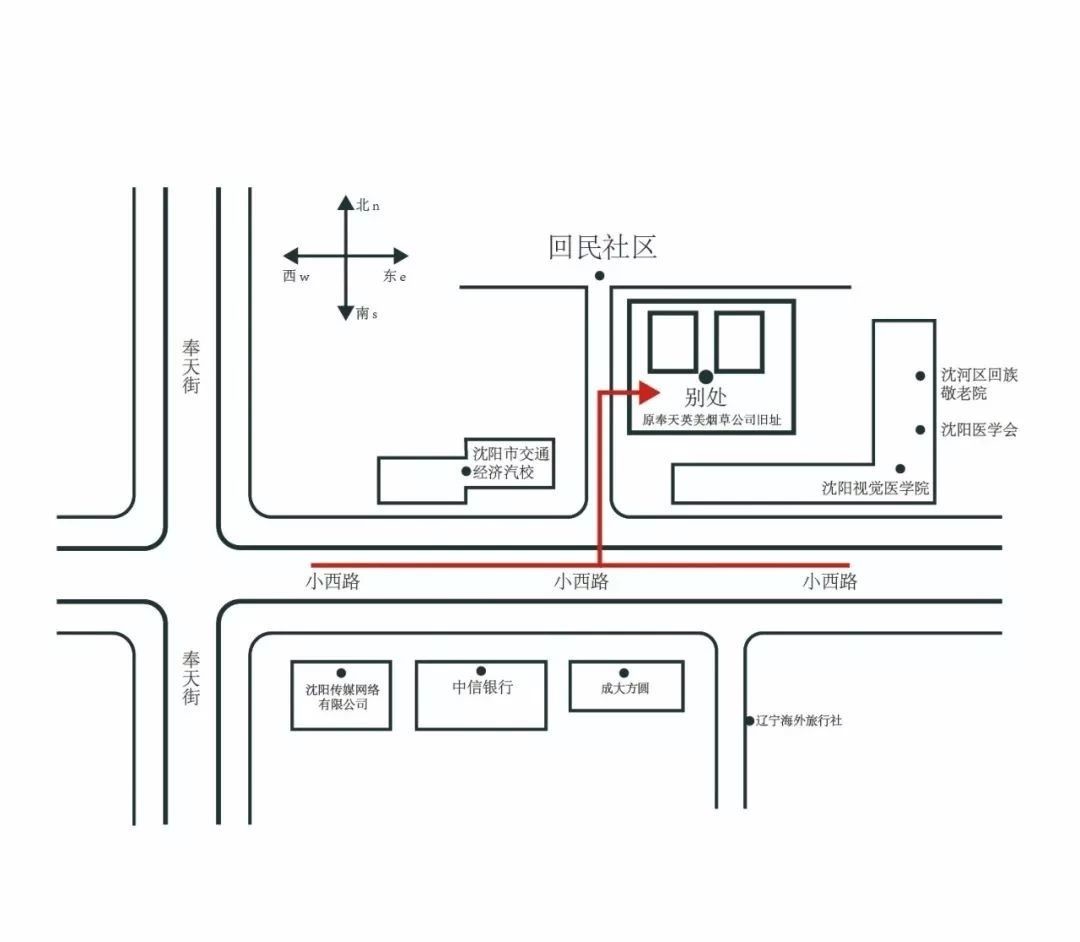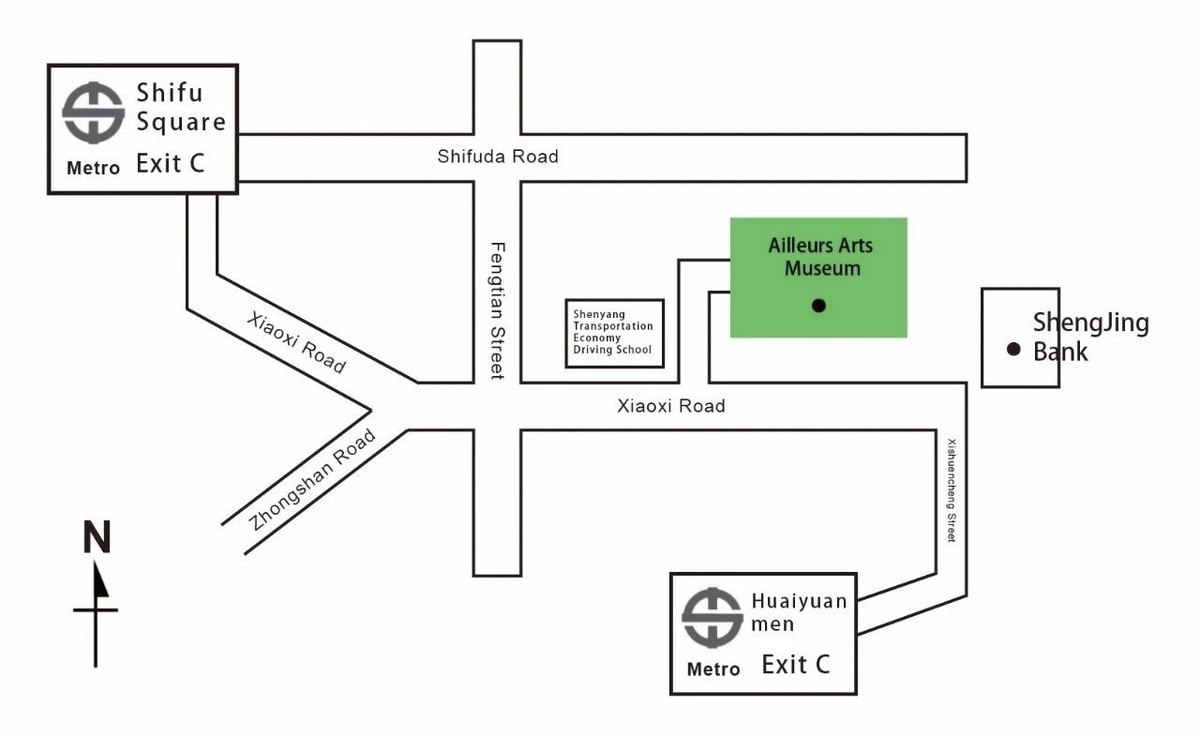 別处研究室 發現生活中的好靈感 設計策劃品牌的文化潛質